[portfolio_slideshow exclude="2717″]

Last year I read about a group of elderly men from India and Pakistan who meet daily in a shopping mall in Fremont, California called The Fremont Hub.  The article talked about the local population of northern Indian immigrants, and recounted the trials and tribulations of these elderly newcomers.  I decided that I would make these men part of my portfolio of Aging Across America, and last week I had my opportunity.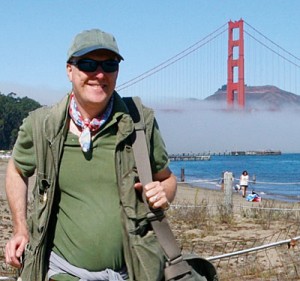 The article said they meet only on weekdays, so I flew out to San Francisco on Saturday afternoon hoping to spend a day sightseeing, then drive to Fremont and photograph them on Monday morning.  I saw on the map that Fremont was no more than a 45 minute drive across the Bay Bridge.  But would they be there?
I got up early and after a long drive on a bumper-to-bumper freeway arrived at

the Hub at 9:00 AM.  I stopped for a coffee and asked around where the old men congregate. A guy on a trash truck pointed to a nondescript concrete curved bench at the edge of the mall, which was deserted.  I brought my car around and waited in the empty parking lot under the bright morning California sun.
By 10:00 AM I began to get worried that no one would show, but at 10:15 a turbaned man on a bicycle pedaled up, and another, and another.  Still others walked from different directions, congregating at the bench.  By 11:00 AM there were about twenty of them, some in traditional garb, others wearing typical American clothing. They were a happy, excited bunch, shaking hands, gesticulating, and speaking to one another in Urdu.  I introduced myself as a doctor from New York who travels the United States photographing aging, and they seemed thrilled to have a visitor who was interested in them.  I learned that most of the men were from Punjab – a state in northern India – and a few were from Pakistan.  The called themselves "The Hub Club," and eagerly agreed to have their photos taken.
I hung around for about an hour until I had to make my flight.  From the old men I learned about the history of India, the tradition of The Hub Club, and the successes and tribulations in their families. Gathering at this concrete bench at the Fremont Hub was clearly an important part of the lives of these men.
On the edge of a California shopping mall, surrounded by asphalt and neatly clipped shrubbery, a piece of their ancestral home was created.  Perhaps this allowed them to return to the new world of America more self assured, completing a process that millions of immigrants from across the globe continue to undergo as they become part of our society.
* * * * * * * * * * * * * * * *
For an interesting article on elderly Asian immigrants in California click here.
Related posts:
MetLife Foundation Funds Exhibit on Aging
Recertification in Geriatric Medicine Completed
Aging Across America Goes to Sturgis
.