[portfolio_slideshow exclude="7342″]

I am writing this blog post while sitting in an al fresco restaurant in the area known as the Meatpacking District of Manhattan.  Twenty-five years ago I photographed this place, never imagining that it would transform into a glitzy international tourist destination.
I moved into New York City in 1985 to study geriatrics at the Mount Sinai Medical Center.  Back then, the International Center for Photography (ICP) was located on Fifth Avenue in the 90's – just steps from the hospital – and offered conveniently timed introductory evening courses.  With the help of moonlighting jobs in local emergency rooms, I scraped together enough to buy a quality camera and darkroom equipment for my third floor brownstone walk-up on the West Side of Manhattan.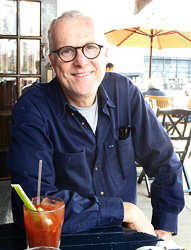 In the early dawn hours I explored the city with my camera, returning to my apartment to exchange my camera for a stethoscope and continue my workday.  Late at night I returned to my apartment to process the film.
I recently rediscovered these black & white negatives stored in a cigar box for over two decades.  Looking at them with a loupe, they opened a door to the past.  New York City was a different world back then.  Ed Koch was mayor, and crime rates were spiking as the crack epidemic hit.  The HIV virus was just recently identified, and there were few effective antiviral drugs available as hundreds of dying men filled the City's hospital wards.
Things were very different in the Meatpacking District, also called Gansevoort Market.  Running along the West Side Highway from 12th to 14th Street, the area was dark and smelled of blood as drug dealers and prostitutes worked the shadows.
In the 1990's Mayor Giuliani almost succeeded in knocking down the elevated tracks that would become the High Line, a spectacular elevated park. As the meat packers folded up and moved out, the area attracted upscale boutiques, hotels, and sleek modernistic apartments, as well as fashion models and tour buses.  The area even has an Apple Store.
I was thrilled when I found these negatives, and even more excited when I scanned them, revealing a Manhattan that is long gone.   Remembering my old rusty kitchen sink where I developed the film, I am pretty satisfied with the result.
I hope you enjoy this snapshot of Manhattan, a city where change is the only constant.
* * * * * * * * * * * * * * *
For more photos of Manhattan, see the following posts:
A Glimpse of Manhattan After 9/11
City Diary: Incident on the Brooklyn Bridge
City Diary:  Manhattan Loses an Artistic Landmark
Year of the Dragon in Manhattan's Chinatown
Revisiting St. Vincents Hospital
.