[portfolio_slideshow exclude="6213"]
I have been coming to Venice Beach since the mid 1990's, to chill out and enjoy the California sunshine.  Even though I live in New York City, a good part of my life has revolved around this gritty enclave on the edge of Los Angeles.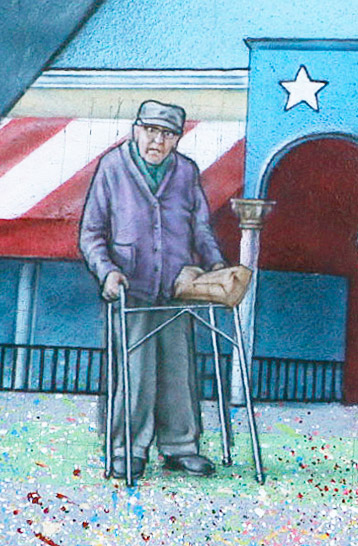 Venice is extraordinary in its support of public art.  Everywhere you go there are murals.  One of the greatest muralists is Rip Cronk, and on my most recent trip I had the privilege of meeting him while he was revising his most famous painting in the heart of Venice.  Originally completed in 1989 and titled "Venice Reconstituted," he has enlarged his vision and retitled it "Venice Kinesis."    The mural depicts many local characters, including an elderly man with a walker.   
I asked him about this figure.   Rip didn't know his name, but told me how he'd walk up and down the beach front every day.  "Elderly people have always been a part of the Venice scene," he told me.  "Even 20 years ago, when this place was much more dangerous, you'd see them all over the place."  Indeed, Venice is the location of a notable and historic gathering site for its older citizens, the Israel Levin Senior Center where I photographed on many occasions.  One of my recent Gerontologist cover photos was taken there.  
Rip Cronk explains the theory behind his art on his website:  "Content in art has always shaped the individual in society. Whether the epic poem of ancient Greeks or the painting of the Modernist, art provides images of the self in transition."  It therefore is appropriate that his community murals depict the process of aging in our society.   
And so it's fitting that I wish my readers a Happy New Year from Venice Beach, where art lives, and geriatrics is featured in its art.     
* * * * * * * * * * * * * *     
Go to Rip Cronk's website.